Artword Artbar, 905-543-8512, 905-912-9083. Your hosts Ronald Weihs, Judith Sandiford.
Email artword@artword.net. BUY tickets online for some shows!

"Artword Artbar is a cosy little licensed listening room on Colbourne at James St. N., that always features interesting live music." Graham Rockingham, Hamilton Spectator 03/29/12
October 21st, 2016
Comments Off

on Upcoming Highlights
December 5th, 2016
Comments Off

on Artword closed Dec 12-Jan 26, back Jan 27, 2017
Artword Artbar is taking a break.
Last day of programming in 2016 is Sunday December 11, for our final matinee of our hit play Scroogissimo.
First day of programming in 2017 is Friday January 27, for a big fundraiser for the Andre Bisson Band who take off on a tour to Memphis. Showtime is 8 pm.
October 20th, 2016
Comments Off

on THEATRE: Scroogissimo returns! In time for party season! Nov 29 to Dec 11
November 29 to December 11, 2016, Tues to Sat at 8 pm, Sun mat at 2:30 pm. Tickets: Adults $25, Student $15, Child 14 and under $10. Tuesdays $10 at door. Please reserve (905-543-8512), as seating is limited. Or 

Book online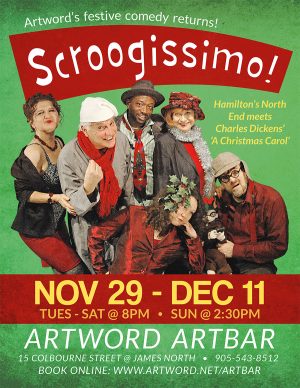 Artword Theatre's delightful Christmas comedy Scroogissimo returns for a third time to Artword Artbar, Nov 29 to Dec 11. Hamilton's North End meets Charles Dickens in a wacky script by Ryan Sero and Charly Chiarelli, directed by Ronald Weihs. With the original cast!
A sell-out hit in 2013 and 2014, Scroogissimo features Charly as "Ebenezu Scroogi", a Christmas-hating old Hamiltonian from Racalmuto, Sicily, who finds himself haunted by three ghosts of the Past, Present and Future.
Scroogissimo is performed by the original cast: Charly Chiarelli, Pamela Gardner, Paula Grove, Valeri Kay, Jon-Gordon Odegaard, and Jay Shand.
Musical support for Scroogissimo is provided by Tim Nijenhuis (keyboard), leader of the blues trio Beg to Differ.
(Cast photo by Adam Carter.)
October 15th, 2016
Comments Off

on Bossa nova jazz, Angela Turone & Chris Platt, Sat Nov 26, 9:30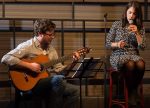 Saturday November 26, 2016, at 9:30 pm (late show after performance of Princess), $10. The Bossa Duo, vocalist Angela Turone and jazz guitarist Chris Platt, perform original arrangements and interpretations of bossa nova and samba favourites, written by some of Brazil's most venerated composers and lyricists.    http://chrisplattmusic.ca/          http://www.angelaturone.com/
Angela Turone, a graduate of the University of Toronto's jazz performance Read more…
October 10th, 2016
Comments Off

on THEATRE: Princess, a new play by Sky Gilbert, Nov 17 to 27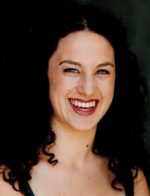 Thurs-Sun Nov 17-20 and Thurs-Sun Nov 24-27, 2016. Thurs-Sat at 8 pm $15, Sun mats 2 pm pwyc. Princess, a Hammertheatre Production, is a new one-act play written and directed by Sky Gilbert. It stars Anna Chatterton (writer/performer in Quiver at Theatre Aquarius Studio) as Mary Beth, and Ralph Small as her father. A young woman meets her dad in a little cafe. We learn that she has cancer, and that her father neglected her is a child. But is that all the truth? Or are there other truths? As the confrontation grows deeper we learn some troubling things about the young woman, and we also learn that things are not quite what they seem. Mary Beth is an extreme young woman, but maybe her obsessions are not that different from someone you know. Not every little girl can be a princess, and not every little girl can be perfectly happy. Can you come to terms with that? With life?
The show runs 60 mins.
LATE SHOW, after Princess: On Saturday Nov. 26 at 9:30 pm, Brazilian Bossa Nova with vocalist Angela Turone, and guitarist Chris Platt.
October 8th, 2016
Comments Off

on MacBush the Musical trailer