"Artword Artbar is a cosy little licensed listening room on Colbourne at James St. N., that always features interesting live music." Graham Rockingham, Hamilton Spectator 03/29/12
Artword Artbar 15 Colbourne Street. Your hosts Ronald Weihs and Judith Sandiford
905-543-8512, c.905-912-9083 artword@artword.net
June 6th, 2016
Comments Off

on Upcoming Highlights
July 21st, 2016
Comments Off

on "the best thing you see at the Fringe this year" review by Amos Crawley
Once I Lived in the Box
Review by Amos Crawley, Published July 20, 2016   https://raisethehammer.org/fringe/2988/once_i_lived_in_the_box
Once I Lived In The Box is a dire warning. It's a tired and nearly, nearly defeated voice crying out in the middle of a windy, terrifying night. It is by turns haunting, sensual, humorous, distant and visceral. Like the Otis Redding version of A Change Is Gonna Come that scores a marvelous solo, it's a show that never once apologizes for the pain of being alive.
It is a shared experience in that way – it's us who are being warned: STOP! We hold on to our faked generosity, our small ownerships, our secret hate for dear life as if we ourselves are not part of a continuum-as if we do not all break the same way.
The show begins with the razor edge feeling of a situation that can't possibly end well. Then quickly we are in the hustle and bustle of a life where life is that which gets swept away-hidden.
The show moves for the most part with the undeniable pulse of heartbreak. We are perhaps doomed and our inner turmoil is a result of the lack of faith we put in one another, of a true generosity of spirit. That's the price we all gotta pay. Isn't it a pity?
Mc Nicolls and his gifted, dedicated performers unselfishly make the political personal so that at the turn of a phrase or a fade in the music (the evening is accompanied by some of the most exquisite music of the 20th century) we have gone from the world at large to the most intimate trials and tribulations of a love affair.
It may be a warning, but it is not a hopeless warning. There is always joy available. We're gonna end up in a box anyhow-why live in one too?
It may be a warning. It may also be the best thing you see at the Fringe this year.
Amos Crawley is an actor, director and acting instructor who lives in East Hamilton with his wife, actor and director Cadence Allen, and their young son.
July 21st, 2016
Comments Off

on "Visceral, raw strength…" "passionately and creatively written and performed"
Once I Lived in the Box Review in View Magazine July 21 2016 by Heather Baer
Visceral, raw strength are words which came to mind while watching Once I Lived in the Box, a full-length dance work passionately and creatively written and performed by awarding winning choreographer Learie Mc Nicolls. Joining him are four beautiful women (Jamila Bello, Angela Del Franco, Sharon Harvey, and Tanis Macarthur) equally talented in their own right and each having a background in various movement forms from hip-hop to yoga and everything in between.
Once I Lived in the Box was inspired by a 10 page poem of the same name written by Mc Nicolls ("…because I have a lot to say", quips Mc Nicolls when asked at a Q&A session after opening night) and reveals issues of vulnerability and trust as show through a series of solos, duets and quartets interwoven around, in, on and through movable pieces of "the box".
The passion for and commitment to the piece and to their craft was expressed by the artists in every move from the fluid cadence of limbs to the exact placement of fingers as well as tell-tale glances and nods sometimes working in harmony and other times in opposition.
Come and enjoy this unique exposition. The artistry continues for the rest of the weekend at Artword Artbar.
July 16th, 2016
Comments Off

on Gary Smith rave reviews for Box and Toller
Out there on the Fringe: Three plays that take us on a journey of discovery
Gary Smith  The Hamilton Spectator, 16 Jul 2016
Gary Smith has written on theatre and dance for The Hamilton Spectator for more than 30 years.
There's diversity on The Fringe. Take Once I Lived in the Box, a contemporary dance drama that asks you to feel drama through movement. Or Toller, a second look at a troubled genius who made skating look easy and life look hard. And then there's Anybody Else, Ryan Sero's biting comedy about art versus commercial success. Even Sigmund Freud turns up in that one.
These are three distinctly different, but compelling human journeys that tell us we're alive and thinking somewhere on The Fringe.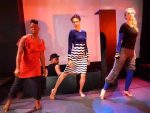 Once I Lived in the Box is an intimate, intensely personal dance drama where movement says what words cannot. Learie Mc Nicolls and four outstanding female performers take us to the edge of personal discovery, forcing us to escape theatrical stereotypes and confront our personal psyches. Mc Nicolls' choreography gives his dancers freedom to express who they are; each being a different and skilled artist who lets movement take her to a private, enigmatic place.
Angela Del Franco, statuesque and lean, has something of a Martha Graham sensibility about her, warm and cool at the same time. Sharon Harvey is a compact firebomb of a dancer who eats space. And somewhere in between such polarities is Tanis Macarthur, a pale presence who moves like a spectre connecting this world with some other time and place.
Mc Nicolls' world of demons and darlings, set free in a performance that's honest and pure, is enticing. And when the man himself puts on his familiar black derby he moves like a cross between a Bengal tiger and some latter day Mr. Bojangles: pure honey dripping from a spoon. Jamila Bello adds occasional words of wisdom via spoken raplike passages that bookend the performance.
Sophisticated and startling, Once I Lived in the Box plays at Artword Artbar, 15 Colbourne St., July 19 to 22 at 9 p.m. and Sat. July 23 at 6 and 9 p.m.
Back in Hamilton for a second time is Sky Gilbert's poetic drama Toller. If you missed it before, this is a perfect chance to catch one of the best works of the season. A tortured genius, Toller Cranston was a remarkable painter and a brilliant ice skater. He was a man who saw life through the opposite end of the telescope. His own emotions, sexual identity and theatrical attitude were simply part of his genius and Gilbert's play. Here is a dazzling picture of the artist as a troubled human being. Imaginatively directed by Gilbert, and acted with great understanding and simplicity by David Tomlinson, Toller is luminous. It's something Hamilton Fringe should be proud of. It's at Artword Artbar, July 16 at 4 and 8 p.m. and July 17 at 2 p.m. For goodness sake, go see it. Read more…
June 10th, 2016
Comments Off

on DANCE: Once I Lived in the Box, FRINGE: July 19, 20, 21, 22, 23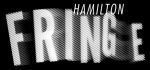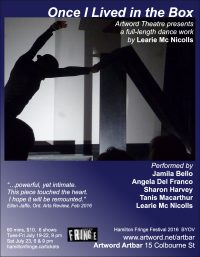 SIX SHOWS: Tues- Fri July 19-22, 2016, at 9:00 pm; Sat July 23 at 6:00 & 9:00 pm. Running time 60 minutes.
Tickets $10: hamiltonfringe.ca/tickets/
or at door.
Artword Theatre presents Once I Lived in the Box, a dance work by Learie Mc Nicolls,  for the 2016 Hamilton Fringe Festival.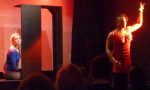 Dancer and choreographer Learie Mc Nicolls has created a full-length dance piece about vulnerability and trust. The piece is danced by Angela Del Franco, Sharon Harvey, Tanis Macarthur, Jamila Bello and Learie Mc Nicolls, in a sequence of trios, duets and solos, that reveal different aspects of isolation and connection. Judith Sandiford is producer and lighting designer.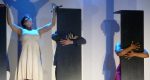 "Once I lived in the box/ hated the box/ loved the box/ respected the box/ got angry at the box… "
Photos right are from the presentation at Artword Artbar in Feb 2016.
REVIEW: "Learie Mc Nicolls' newest creation, Once I Lived in the Box, at Artword Artbar [Feb 3, 4 and 5, 2016], was a powerful, yet intimate, piece of choreography… This piece touched the heart. I hope it will be remounted; it deserves a longer run and a larger audience." Ellen Jaffe, Ontario Arts Review
June 9th, 2016
Comments Off

on Sky Gilbert's Toller, Hamilton Fringe Fest, July 14, 15, 16, 17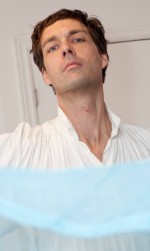 Thurs July 14 & Fri July 15 at 8 pm, Sat July 16 at 4 & 8 pm, Sun July 17 at 2 pm. Tickets $10: Hamilton Fringe website (http://hamiltonfringe.ca/tickets/) or at the door.
Venue: Artword Artbar, BYOV.
TOLLER, about figure-skater Toller Cranston. The play, premiered in November 2015 at Artword, is written and directed by Sky Gilbert, produced by hammertheatre, and stars David Benjamin Tomlinson in the role of Toller. The play is a fictional one-act presentation in which Toller Cranston muses on his life and times. It is inspired by Cranston's 1997 memoir Zero Tollerance: An Intimate Memoir by The Man That Revolutionized Figure Skating. Toller Cranston died suddenly in 2015 at a relatively young age of 65. The Olympic Bronze medalist, born in Hamilton, was always a controversial figure. Sky Gilbert considers Toller Cranston as an historical gay figure much in the 'old school closeted' style of Noel Coward and Liberace. Uncomfortable with gay liberation, Cranston instead preferred to position himself as a creative outsider rather than as a homosexual.
Gary Smith (Hamilton Spectator) chose "Toller" as one of the Ten Best of 2015: Read more…
June 6th, 2016
Comments Off

on Smiling Jack Smith, Sue Leonard, Cindy Dell, Michael J. Birthelmer, Sun July 10, at 3 pm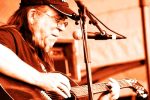 Sunday July 10, 2016, from 3 to 6 pm, $15 door / $10 advance 905-543-8512.

Book advance tix online
Spend a special Sunday afternoon with blues singer-songwriter Smiling Jack Smith, "Spain's blues poet", visiting Canada on tour from his home base in Spain.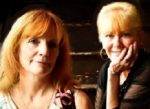 Jack heads up a celebration of song with his good friends local musicians Sue Leonard, Cindy Dell (of Perfect Strangers) and Michael J. Birthelmer, master guitarist, songwriter and story-teller.
Smiling Jack has been writing and singing his songs in a career that spans five decades and three continents. He has played folk songs with The Smith Brothers in New York (with lead guitar Stan Jay), folk-rock in Vancouver (with players like Joe Mock, Pat Coleman, Ed Patterson and Robbie King), country in Florida (with T.C. Carr on harmonica) and blues in Europe and Australia (with David Gwynn, Antonio Serrano and Jim Finn). http://www.smilingjacksmith.com/
Read more…