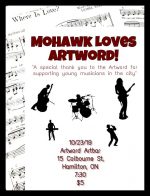 Wednesday October 23, 2019, at 7:30 pm, $5. "Mohawk loves Artword" is a night celebrating the history of performances at Artword Artbar by members of the Mohawk College music program. This showcase is a special thank-you from current and former students of Mohawk College for Artword's support of young musicians in the city.
Organized by singer-songwriter Aisha Barrow (Soul and R&B artist LifeandtheTribe).
Line-up. Garrett Lajoie, Julianna Jones, Lauren Perreira, LTtheMonk, LIFEandtheTRIBE, and a Mohawk Jam.