ARCHIVE ONLY. THESE PREMISES CLOSED PERMANENTLY ON DECEMBER 5, 2019.
SOME PRESS 2014: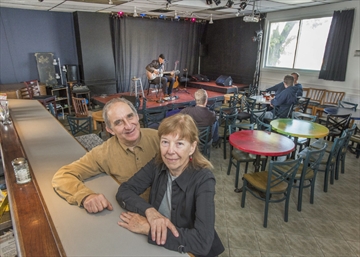 You don't have to board a Go train to see quality live music
ARTBAR, Ron Weihs and Judith Sandiford at their Artword Artbar. Photo by Kaz Novak, Hamilton Spectator, November 14, 2014
By Graham Rockingham
… Yes, we have a lively music scene here. You don't even have to board a Go train to reach it. Take a cab or a bus downtown. Or if you're lucky enough to live downtown, walk. Admittedly, it wasn't always like that. There was a time when it was hard to find a venue downtown offering live music throughout the week. Things have changed. We're now awash in quality venues. Here's a sampling. [We've included the first five venues for the context.]
This Ain't Hollywood, 345 James St. N  It's hard to believe this place has only been open five years. It's already a rock 'n' roll institution. Co-owner Lou Molinaro is a huge fan of the '70s New York punk and glam scene. He also loves Johnny Cash. Texas guitar great Johnny Winter performed here two months before his death. Regular acts include Blue Coupe (featuring the Bouchard brothers of Blue Oyster Cult and Dennis Dunaway of Alice Cooper) and Robert Gordon. Upcoming shows include The Forgotten Rebels (Nov. 15). thisainthollywood.ca
The Casbah, 306 King St. W., at Queen  Still reigns supreme as the city's première indy music venue. Owner Brodie Schwendiman has been booking bands for more than 15 years and is the established go-to guy for acts across Canada. Upcoming shows include The Harpoonist and the Axe Murderer (Nov. 18) and The Strumbellas (Nov. 22). The venue holds less than 200 people standing room and serves a good variety of craft beers. Schwendiman's wife Michelle has recently opened the adjoining Strathcona Bar which offers delicious charcuterie. casbahlounge.ca
The King William Strip  King William on either side of Hughson, is developing into a flourishing strip of cafés, clubs and restaurants. Since moving from its original King St. East location, Club Absinthe has been attracting good-sized crowds at 38 King William (site of the old Pepper Jack Café). It is best known for its Motown on Wednesdays (a DJ night filled with retro music from the '60s and '70s) and a home for contemporary/progressive metal bands. clubabsinthe.ca. The new kids on the block are Homegrown Hamilton and the Baltimore House. Both feature light menus and an eclectic array of live entertainment most evenings.
Artword Artbar, 15 Colbourne St., just west of James North  I like this place. The beer is cold and the atmosphere is warm. The Artbar is run by two of the most gracious hosts you'll ever meet — Ron Weihs and Judith Sandiford. They open their stage each night to a wonderful assortment of creativity. It has become a hangout for Mohawk College jazzers, bluegrass pickers, singalong folkies, spoken-word poets and off-the-wall theatre types. Check out the art on the wall, upstairs and down. Be sure to say "hello" to Ron and Judith. artword.net/artbar
The Pearl Company, 16 Steven St.  The same funky atmosphere as the Artbar except twice the size and without the alcohol. Here the gracious hosts are Barbara Milne and Gary Santucci. If it seems like they're inviting you into their home, it's because they are. Gary and Barb live upstairs. They have some of the best in Canadian roots and folk. Coming up is Lennie Gallant (Nov. 9), Paul Reddick (Nov. 28) and Garnet Rogers (Nov. 29). thepearlcompany.ca
…
A video about Ronald Weihs and Judith Sandiford at Artword Artbar by Francis Fiction, published June 2, 2013.
AND back in August 2009: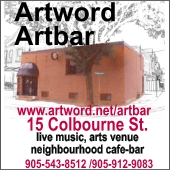 Artword Artbar and Artword Gallery, at 15 Colbourne Street, off James Street North in Hamilton, is Artword Theatre's new project in Hamilton. In August 2009 we bought a lovely neighbourhood bar in the James North Arts District. We're turning it into an arts hub, a meeting place for artists, a live music venue, and an art gallery. We'll be part of the James North Arts Crawl.
Here's the background:

Artword is the name used by Judith Sandiford and Ronald Weihs for their activities in the arts, spanning almost twenty years. Artword has been the name of an art magazine, a theatre company, a small experimental theatre space, and a large arts complex in downtown Toronto.
Artword Theatre and Gallery in Toronto included a 150-seat theatre, an smaller space for experimental work (The Artword Alternative) and a large gallery space. In 2006, Artword's leased building was sold for condominium development.
In 2007, Sandiford and Weihs moved to Hamilton, where they looked for a property suitable for development as a theatre.
At that time, Sandiford and Weihs set up a non-profit corporation specifically to develop works of theatre, called Artword Cultural Projects. They produced a workshop in Toronto of a musical play called Ghost Ship. They also remounted If Cows Could Fly and played it in Hamilton, Ottawa (for three weeks at the Irving Greenberg Theatre Centre), Toronto (at the Ashkenaz Festival) and once again in Hamilton.
In 2008 Artword formed an informal strategic alliance with Gary Santucci and Barbara Milne, who operate a performance facility and gallery in Hamilton called The Pearl Company. Artword produced four original works of theatre from October 2008 to April 2009, touring the last play to Delhi Ontario in early July, 2009.
However, the dream of buying a building in Hamilton that could be converted to a theatre has proved elusive, for a number of complex reasons. It has also become clear that the best location for a new arts facility is in the burgeoning arts district along James Street North, in what the city calls Jamesville.
A small bar became available on Colbourne Street, just a few hundred yards west of James Street North. It is a free-standing building on its own lot, in excellent condition, attractive and in a superb location.
The opportunity to take over an existing bar, that can be a hub for the creative energies presently emerging on James Street North, is too good to pass up.
For more about Artword Theatre's production history, visit www.artword.net