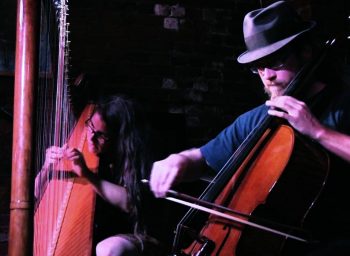 Thursday April 11, 2019.
TIME CHANGE, start now 7:30 pm !! $10.
The Vagabond Duet: Geoff Ball on cello, guitar and vocals, and Rachel Nolan on pedal harp, lever harp and vocals. The Vagabond Duet mixes and mashes musical genres with reckless abandon. Cello and harp and two voices come together to bring you folk & baroque, old and new, fierce and lilting, existentialism and hope. In addition to their original compositions, you will hear Simon & Garfunkel, Claude Debussy, The Tea Party, Fleetwood Mac and more, as you have never heard them before.
Featuring an opening set by Teal Booth, song artist and existentialist, serenading on guitar and vocals.