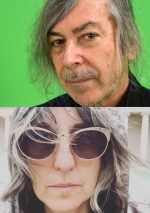 Saturday June 15, 2019, at 8 pm, $15 door, $10 advance. Call 905-543-8512 or Book online  

From punk to present: Edgar Breau and Jean Caffeine bring songs and stories from their storied pasts.
Edgar Breau is a local and national treasure steeped in folk and Canadiana. Playing a style of guitar he describes as 'Canadian primitive', Edgar's songs run the gamut from folk to blues to country to pastoral with a lyricism rare in this age of instant communication. Joining him on stage will be jazz vocalist extraordinaire, Colina Phillips of the legendary girl group, The Tiaras and a charter member of Toronto's super session singers, THE GIRLS.
Jean Caffeine is an Austin-based genre-fluid artist who writes folk pop/folk punk and Americana hooky tunes that will burrow into your ear. In the mid aughts, Jean spent two years in Hamilton and a year in TO. During that time Jean collaborated musically with Mike Trebilcock. Mike T. will be backing Jean up at the show. Mike has played in the Killjoys, Simply Saucer and the low heels and composes music for ghoulish movies and musicals.