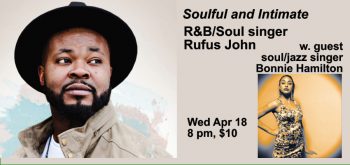 Wednesday April 18, 2018, at 8 pm, $10. Soulful & Intimate is a concert by R&B/Soul singer Rufus John, with band: Attila Toth bass, a drummer and a keyboard player. He will share some songs and stories behind his new album, Gone But Not Forgotten, slated to be released June 2018. Rufus will also sing some of his favourite covers. www.facebook.com/rufusjohnmusic
His special guest for the evening is soul and jazz singer Bonnie Hamilton has cancelled due to illness. www.facebook.com/bonniehamilton78/
Rufus John is a Canadian-Caribbean Artist who is bringing a refreshing sound to the Canadian R&B/Soul music scene. In early 2014 Rufus released his first full length album entitled Growing Pains. Suitably named, the album is a collection of songs taking listeners through an intimate life journey of the experiences from being a young boy to becoming a man. Rufus teamed up with Canadian Hip Hop artist Son Real for his first single Hold On Me, This track gained outstanding buzz amongst online blogs and DJ's around the world. Confessions was released in the UK and it hit #11 on the UK Independent Soul charts.
Rufus is currently working on his follow up to Growing Pains and it's slated to be released on his imprint Urban X Entertainment in summer 2018. The album is titled, Gone But Not Forgotten and the project explores subjects like forgiveness, mourning, love, celebration and acceptance. Sonically, the album will mostly have elements of Soul & R&B but will feature undertones of reggae, hip hop, jazz and gospel music.