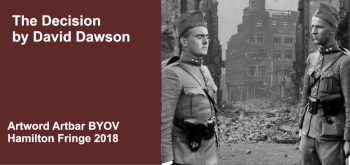 July 19 to 28, 2018. Part of the Hamilton Fringe Theatre Festival.
The Decision (Gallery on the Bay).
Performed by Jordan Campbell and Jason Thompson.
Written by David Laing Dawson, directed by Ronald Weihs
Produced by Marlaise Dawson, design and lighting by Judith Sandiford
Amsterdam, May 16, 1940: Two young officers in the Royal Netherlands Army meet secretly. Their orders are to report to Gestapo Headquarters in the next morning.
Drama, Parental Guidance, Strong Language. Running Time: 60 minutes
Tickets: $12 for Adults, $5 for Children under 12. (Fringe Backer Button required)
hamiltonfringe.ca/tickets/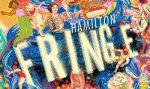 Show Times: Thursday, July 19 @ 7pm, Friday, July 20 @ 7pm
Saturday, July 21 @ 9pm, Sunday, July 22 @ 6pm
Tuesday, July 24 @ 7pm, Wednesday, July 25 @ 5pm
Thursday, July 26 @ 7pm, Friday, July 27 @ 7pm
Saturday, July 28 @ 4pm  (Final show)