August 18th, 2019
Comments Off

on James Gordon "Emergency Climate Musical" Fri Oct 4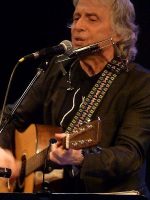 Friday October 4, 2019, at 8 pm. $tba. Singer, songwriter, storyteller James Gordon returns to Artword Artbar with his latest project Emergency Climate Musical. Here is his description of the plan:
"Before the 2015 federal election, songwriter/activist James Gordon barnstormed his way across the country with his hugely successful one-man show Stephen Harper: the Musical. Feeling optimistic about the last musical's results (it worked – you're welcome), he's back with his Emergency Climate Musical: a ninety-minute theatrical investigation of what is certainly THE issue in these uncertain times.
Written in the shadow of increasingly bleak climate studies, the musical is filled with compelling original songs, videos, images, stories, rants, laughter, tears, audience participation, and even some concrete ways to combat a crisis. James promises to entertain, inform, and leave you with homework. Follow along as he outlines his premise that we need a comprehensive political, societal and economic makeover to face the daunting challenge ahead.