February 5th, 2019
Comments Off

on THEATRE: Langston Hughes vs Joe McCarthy, March 9 to 17, 2019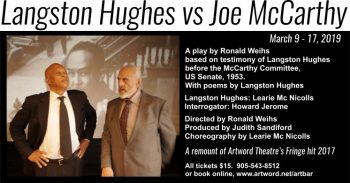 March 9 to 17, 2019. Artword Theatre is bringing back its timely and sensitive piece of documentary theatre, Langston Hughes vs. Joe McCarthy, written and directed by Ronald Weihs and produced by Judith Sandiford.
Dancer-choreographer-actor Learie Mc Nicolls plays the role of Langston Hughes and character actor Howard Jerome as The Interrogator.
Is poetry subversive? U.S. Senator Joe McCarthy thought so. On March 24, 1953, Langston Hughes, renowned poet of the Harlem Renaissance, was summoned before the Senate Committee on Investigations. Did his poems contain communist ideas? In reply, Langston Hughes tells about his personal encounters with racism in America. The script is based on the actual transcript of his testimony, interwoven with the controversial poems, and incorporating dance, music and powerful images of the era.
Only 8 performances! Show dates and times:
Saturday March 9 at 7:30 pm, Sunday March 10 at 3:00 pm,
Tuesday March 12 at 7:30 pm, Wednesday March 13 at 7:30 pm, Thursday March 14 at 7:30 pm, Friday March 15 at 7:30 pm,
Saturday March 16 at 3:00 pm, Sunday March 17 at 3:00 pm.