THEATRE: Scroogissimo! our festive comedy, is back Nov 25 to Dec 7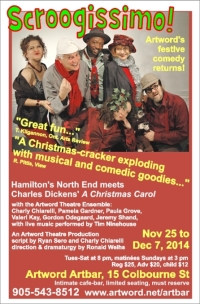 Artword Theatre's delightful Christmas comedy Scroogissimo returns to Artword Artbar, November 25 to December 7, 2014. Hamilton's North End meets Charles Dickens in a wacky script by Ryan Sero and Charly Chiarelli, directed by Ronald Weihs.
SOLD OUT: Saturday Dec 6 show. To reserve for Sunday Dec 7 at 3 pm, call 905-543-8512.
(Running time about 2 hours plus 20-min intermission.)
A sell-out hit last December, Scroogissimo features Charly as "Ebenezu Scrugi", a Christmas-hating old Hamiltonian from Racalmuto, Sicily, who finds himself haunted by three ghosts of the Past, Present and Future.
Scroogissimo is performed by the Artword Ensemble, an acting company that has been working in Hamilton under Weihs's direction since 2008. In addition to Chiarelli and Sero, the company includes Pamela Gardner, Paula Grove, Valeri Kay, Gordon Odegaard, and Jeremy Shand, all experienced practitioners of the Artword Ensemble style. Musical support for Scroogissimo is provided by Tim Ninehouse (keyboard), leader of the blues trio Beg to Differ.
Performances Tuesday to Saturday at 8 pm, matinées Sundays at 3 pm. Tickets Regular $25, Advance $20, child $12
Tuesday November 25 (preview), all tickets $10 at the door
Artword Artbar, 15 Colbourne St, is an intimate licensed cafe-bar with limited seating. Reservations are required (call 905-543-8512)    (Cast photo by Adam Carter.)
"Artword Theatre is cramming a whack of seasonal fun into their tiny package of a space. Mixing local Sicilian–Canadian storyteller Charly Chiarelli and "Charly" Dickens makes a Christmas-cracker exploding with musical and comedic goodies that will make an addition to your festive season you will never forget…." Robin Pittis, View Magazine (December 12-18, 2013):
"Great fun." … Review by Tony Kilgannon in Ontario Arts Review, December 8, 2013:
"Charly Chiarelli and Ryan Sero have teamed up to devise Scroogissimo a send-up of the story in a uniquely Hamilton way, at Artword Artbar. … Chiarelli is a Sicilian, from Racalmuto. He is not alone. Hamilton is full of Racalmutese , their numbers and contributions seeming overwhelming considering the small town from which they originate.  Artword Artbar itself sits almost literally in the shadow of the great  three-legged Trinacria symbol on the side of a neighbouring building.
Chiarelli is well-known for mining the comic possibilities in the culture and the accent of Sicilians, and Hamiltonians. With Sero, he has overlaid that pattern onto the great Dickens tale. You can imagine the results; we get words like "umbaggo" (humbug), and lines like "is there-a no prison-a onna Barton-a Street?".  Because the story and even the lines of the original are so familiar, the send-up works. Even the tender parts of Scrooge's journey are Sicilianized. When "Scroogi" is transported by the Ghost of Christmas Past, to the triangular island and the town of  Racalmuto of his youth, it is a very sentimental moment. I saw at least one hankie furtively raised to dab the corner of an audience member's eye.
I'm very fond of the space in Artword Artbar. It seems so low-tech and home-made that productions have a remarkable intimacy. Everything is carried by the performers, with lighting and sets that are minimal and non-distracting.  The cast of Scroogissimo held my interest with strong comic acting and as a powerful musical ensemble. Accompanied by only a keyboard, they performed several Christmas musical numbers including a couple of classic Italian songs. Great fun at a very nice bar with craft beer and wine at reasonable prices.  (Tony Kilgannon, Ontario Arts Review, Dec. 8 2013)
And the full review by Robin Pittis in View Magazine:
Artword Theatre's Scroogissimo!
http://www.viewmag.com/15095-Artword+Theatre%27s+Scroogissimo!.htm
by Robin Pittis
December 12 – 18, 2013
The Artword Theatre is cramming a whack of seasonal fun into their tiny package of a space. Mixing local Sicilian–Canadian storyteller Charly Chiarelli and "Charly" Dickens makes a Christmas–cracker exploding with musical and comedic goodies that will make an addition to your festive season you will never forget.
One doesn't want to overuse the word unmissable, but if this cast keep on like they're going, this will be the event of the season.
Ebenzu Scrugi is a skinflint with roots in Sicilia and a tightfisted grasp on the Canadian dollars he has earned while struggling from dirt poverty to the upper echelons of Hamilton society. With some help from his couginis, of course… That is, until he is accosted by (you guessed it) the ghost of his dead business partner Jacobo Marley, and three 'spiritu's of Natali Past, present and future.
Ron Weihs and Judith Sandiford (the Mr. and Mrs Fezziwig of James North), dispense artistic delights all year round, but they've really laid on a feast of seasonal fireworks to warm us through to the other side of March. The ingenuity displayed in mounting a full musical in a space the size of a one per–centers walk–in closet is a wonder to behold.
You really can't go wrong with the irrepressible Chiarelli as Scrooge. The man is a raconteur born and bred, and anchors this piece with essential charm and humour.
It's essential because, let's face it, the Christmas Carol is kind of like a well–loved stuffed toy — so many generations of writers have adapted, re–written, changed locals, and otherwise mucked with Charles Dickens' beautiful and moving prose novel, that yet another rendition threatens to burst the seams and let the stuffing out.
Thankfully this is too seasoned an artistic team, with too deep a well of talent to go far wrong. While the cast certainly slept soundly after last Saturday's comedic and musical marathon, the audience got every penny of the ticket price.
Weihs, Sandiford, and Chiarelli are an artist team that have worked together successfully for more years than they will likely admit to, and their sensibilities interweave beautifully, as always, here, and they've blended seamlessly into the Hamilton scene.
A new addition to the Artword team this time out is playwright Ryan Sero, who delights in absurdity and corn-ball word play with the banter and rhythm of Vaudeville. There are quite a few groaners in the mix here, but lots of very very funny character work, and a great many subverted expectations, which is a huge blessing. You wouldn't think this story could be retold again, and kept fresh, but this team does a fine job, and you won't regret investing your time.
Gordon Odegaard's simultaneous playing of Bob Cratchit and Tiny Tim almost steals the show – and stealing a show from Charly Chiarelli is a little like knocking over a Swiss bank. You wouldn't think anyone could steal what has already been stolen, but this straight–man and ventriloquist dummy shtick puts this show over the top, into don't miss it success.
Pamela Gardener's ditzy deconstructionist Christmas Past spirit is beautifully boho and, like, totally James North?! Paula Grove's flirtatious Italian Christmas Present is utterly bang on archetypal man–eater (think Mercedes Ruhl in the Fisher King), while Valerie Kay has gorgeous fun with her deadpan–twinkle Christmas Future.
Newer Artwordians Jeremy Shand, as Jacobo and many essential Character Parts, is a key workhorse without whom this show simply could not go on, and likewise keyboardist Jennifer Lockman carries immense weight in this massively ambitious show for a tiny company.
Don't think this is just hilarity and diversion. It is, absolutely, diverting, but so importantly for this show, the spirit of the Christmas Carol isn't drowned by the frivolity or meaningless festivity. Scrugi's Sicilian past is beautiful but hard, and the Children of Christmas Present are given their due.
Everyone onstage is having a lot of fun here, and you will too. At twenty five bucks a ticket, you're getting a steal. In fact, you may feel guilty you paid so little. The Artword is to theatre, what Joss Whedon's Firefly was to Science Fiction; Beautiful, brave and independent… and always flying on the edge.
Remember to bring your carolling voice, because the more you put in to this show the more you get out of it. Like any community, really. And that's really what the season is about, isn't it?