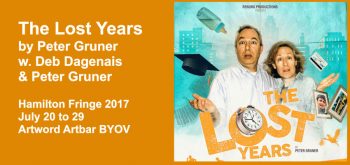 July 20 to 29, 2017. The 2017 Hamilton Fringe Theatre Festival at Artword Artbar Bring-Your-Own-Venue: The Lost Years: a Renurg Production by Peter Gruner, directed by Al French, performed by Deb Dagenais and Peter Gruner.
Travel through The Lost Years… Having kids is crazy! You start out young and suddenly "wake up" old. Ben and Carly start off happy and naïve, but where will they be after their journey through parenthood? The Lost Years is the time spent raising children. For parents, parents-to-be, children or anyone in a long term relationship. A comedy from the creators of Minced, Laund-o-Mat at the End of the World, and Mommy's Mask.
Running Time: 50 minutes
Tickets: $10 + one-time Fringe button:  BUY Tickets Fringe website
Showtimes: Thu July 20: 8:30pm, Fri July 21: 7:00pm, Sat July 22: 5:00pm, Sun July 23: 6:00pm, Tues July 25: 7:00pm, Wed July 26: 7:00pm, Thu July 27: 7:00pm, Fri July 28: 6:30pm, Sat July 29: 4:30pm.