THEATRE: Charly Chiarelli's new show Charly's Piano, Dec 7 to 16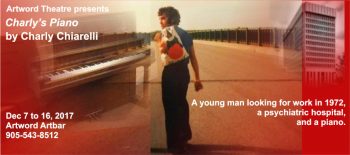 December 7 to 16, 2017. Charly's Piano, Charly Chiarelli's heartwarming Christmas show about how he organized a fundraiser to buy a piano for the Clarke Institute of Psychiatry in 1972. An Artword Theatre Production, directed by Ronald Weihs. Charly's Piano is the true story about how Charly went to work as a psychiatric assistant at the Clarke Institute of Psychiatry in Toronto. The year was 1972, Toronto was full of music and hippies, and the Clarke was exploring new techniques in mental health. Charly, harmonica and all, fit right in. Pretty soon, he's organizing a fundraiser to buy a piano for the patients to play. At first, no one signs up, but when the "Cat Lady" says she'll sing a song, the idea takes off. Patients, doctors, nurses perform in a sell-out concert. But the story isn't over. Charly and a patient known as "The Duchess" travel by public transit to a mansion on the outskirts of Toronto and buy the piano. And at Christmas, the piano is in the lounge, where Charly leads patients and staff (and audience) in Christmas songs and carols.
Script by Charly Chiarelli and Ronald Weihs, new songs by Charly Chiarelli on harmonica with Ronald Weihs on guitar. Produced by Judith Sandiford.
Reserve 905-543-8512 or 

Book online.
Show times and prices:
Thurs, Fri & Sat, December 7, 8 & 9, at 8 pm, $20; Sun December 10 matinee at 3 pm, $20
Tues to Sat, December 12 to 16, at 8 pm, $20.
The Two-Show Deal: If you came out to Cu'Fu? and loved it, you are eligible for the two-show package discount. By phone only: 905-543-8512.