THEATRE: MacBush, the Musical, by David Dawson, April 26 to May 8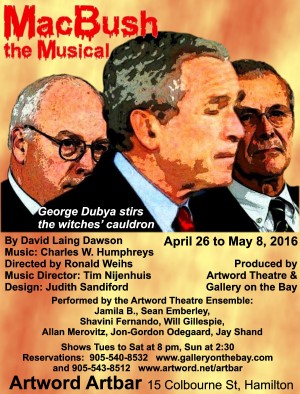 MacBush the Musical RETURNS Nov 1 to 13, 2016! Click here http://www.artword.net/artbar/
Tuesday April 26 to Sunday May 8, 2016, a two-week run at Artword Theatre / Artword Artbar.   MacBush, the Musical, by David L. Dawson and directed by Ronald Weihs, is a new musical play that is — yes, you guessed it — a mash-up of Shakespeare's Macbeth and the George 'Dubya' Bush administration during 2001/9/11 and the War on Iraq.
G. Dubya and his sidekicks Dickie, Rummy, Condi and Coley sing jaunty show tunes while they plan tactics of 'shock and awe'. Songs sung by a soldier and an Iraqi woman reveal other viewpoints. With guest appearances by 'Saddam Hussein' and 'Osama Bin Laden' and 'Ahmadinejad' as witches, who have some chilling prophecies about our now current world crisis.
Performed by a cast of seven accomplished singer-actors in the Artword Theatre Ensemble:
Jamila B., Sean Emberley, Shavini Fernando,
Will Gillespie, Allan Merovitz,
Jon-Gordon Odegaard, Jay Shand.
Book and lyrics by David Laing Dawson. Music by Charles W. Humphreys.
Directed by Ronald Weihs. Music direction by Tim Nijenhuis.
Design by Judith Sandiford. Produced by Artword Theatre and Gallery on the Bay.
Show Dates and Times: April 26 to May 8, 2016, Tues to Sat at 8 pm, Sun mat. at 2:30 pm
Prices: Tues $20.00, Wed, Thurs & Sun: $25.00, Fri & Sat $30.00
Call for info about groups and special price offers:
Artword Artbar: 905-543-8512   www.artword.net/artbar
OR Gallery on the Bay: 905-540-8532   www.galleryonthebay.com