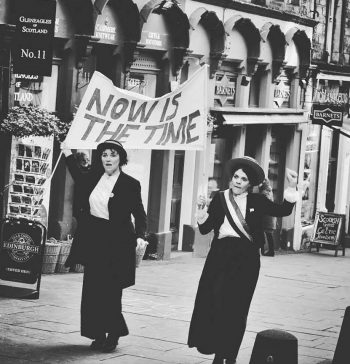 Thursday March 14, 2019, at 9:00 pm, $10 or by donation. (This is a late show after the 7:30 performance of Langston Hughes vs Joe McCarthy.) Call 905-543-8512.
COMBO TICKET $20 with Langston Hughes vs... at 7:30, call or Book online  

The Purple, White and Green: the story of the Scottish Suffragettes. Written to mark the 1918-2018 centenary of (some) women's right to vote in the UK, this powerful piece of storytelling is both timely and compelling. Storytellers Nicola Wright and Lea Taylor (from Edinburgh, Scotland) present with verve and vigour this mix of historical facts and prose, where deeds and words come together.
Photo left: performers Lea Taylor and Nicola Wright marching down the Royal Mile in Edinburgh, 2018.
Their performance has enthralled audiences and even played at the Scottish Parliament before MSP's and children.
They will also be performing this show at the Toronto Storytelling Festival on or near International Women's Day.