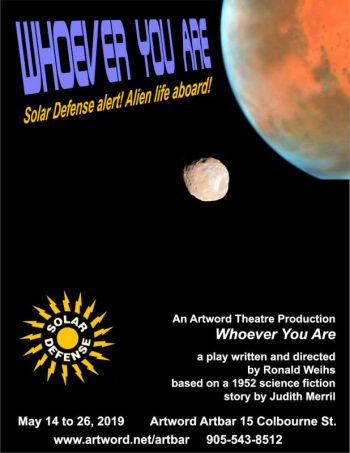 May 14 to 26, 2019. Call 905-543-8512, or

Book online
Artword Theatre presents Whoever You Are, a play written and directed by Ronald Weihs, based on a 1952 science fiction short story by Judith Merril.
The human race has built a web around the Solar System that traps alien life forms. A SolSys scout ship returns with aliens aboard and is caught in the web. When a young recruit boards the ship and investigates, it becomes evident that the aliens have what may be an irresistible weapon: they love everybody.
Do we dare let them in? On Phobos (one of the moons of Mars), three people must decide what action to take: two men, a military commander and a psychologist, and one woman, the public information officer.
Performed by Jordan Campbell, Paula Grove and Jay Shand as the team at Phobos Base, and Pamela Gardner as Private Fromm, the new space recruit.
Live soundscape by Dave Gould (and voice of Sergeant Bolster).
Video effects by Ronald Weihs and Judith Sandiford.
Show times: Preview $10 Tues May 14 at 8 pm.
Wed to Sat $20: May 15 to 18 at 8 pm.
Tues to Fri $20: May 21 to 24 at 8 pm.
Matinees $15: Sat May 18, Sat May 25 and Sun May 26 at 3:30 pm
Written in 1952, Whoever You Are was Judith Merril's answer to the "Fortress America" paranoia at the beginning of the cold war, and her protest against the emotional and sexual repression that fueled it. Although the lines today are less sharply drawn, fear of the alien is as prevalent today as it was then.
Like most of Judith Merril's work, Whoever You Are has fun with the science fiction setting, but uses it to make some serious points. Merril had a major influence on science fiction as one of the main voices for more human themes and complex issues. In her own fiction, and in a series of key anthologies, she championed the position that Science Fiction was about exploring alternative realities.
The play by Ronald Weihs was first developed in 1997, when Ron asked her permission to adapt one of her short stories for the stage. Judith Merril died on September 12, 1997, when the project to put Whoever You Are on the stage was well underway. Just before she went to the hospital, she read a draft of the script. Her most significant comment was that the play must convey the sense of inward-looking paranoia, fear and sexual repressiveness that underlies nationalism and xenophobia.
It seems even more urgent to revisit these themes now, in 2019, 22 years after our first presentation of the play (in our first Artword Theatre on Portland Street), and 67 years after Judith Merril wrote the original story.