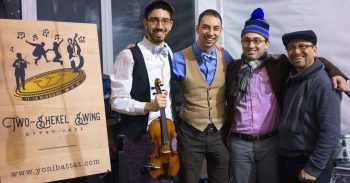 Tuesday May 28, 2019, at 7:30 pm. $15. Special concert #1.
Call 905-543-8512 or
Book online  

Two-Shekel Swing, coming to the GTA for Jewish Music Week in Toronto, and then on to Hamilton! The musicians are Yoni Battat violin/vocals, Travis Pullman guitar, David Chevan bass, Jesse Chevan drums. Two-Shekel Swing blurs the lines between Klezmer, the folk music of Eastern European Jews, and Gypsy Jazz, the Parisian swing music of the 1930s.
The Boston-based ensemble is led by fiddler and vocalist, Yoni Avi Battat, who has performed this music for wide-ranging audiences in Lisbon, Tel-Aviv, New York and more. His fresh arrangements draw on his academic studies in Yiddish language along with his love for improvisation and experimentation. Yoni is joined by bassist David Chevan of the Afro-Semitic Experience, guitarist Travis Pullman of the Somerville Symphony Orkestar, and drummer Jesse Chevan who plays brass band, afrobeat, jazz, hip hop, and klezmer music in New York City.
Their unique blend of Yiddish Swing and old-world nostalgia will have you clapping, stomping and singing along to these historic melodies, reimagined with nuance, spirit and flair. The group performs in Jewish and secular venues, from synagogues to jazz clubs, and is working towards the release of their debut album.