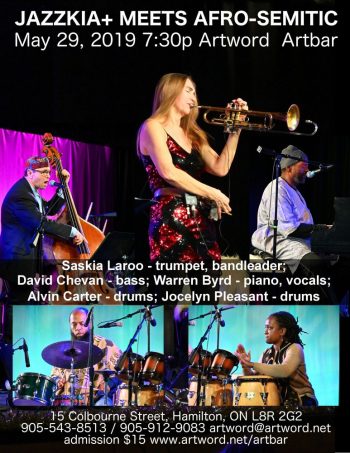 Wednesday May 29, at 7:30, $15. Special Concert #2. Call 905-543-8512 or
Book online  

Jazzkia+, Saskia Laroo's innovative world music jazz project, comes to Hamilton, ON for a special performance! Saskia Laroo trumpet and vocals, Warren Byrd keyboards and lead vocals, Alvin Carter, Jr., drums and vocals, Jocelyn Pleasant, percussion and vocals, David Chevan bass and vocals.
Saskia Laroo's Jazzkia+ goes Afro-Semitic featuring David Chevan and Warren Byrd (Kind of Cool meets Klezmer Soul). An evening of bebop, Latin, klezmer, funk, gospel and soul!
Jazzkia+ is Amsterdam-born trumpeter Saskia Laroo's Jazz Quartet plus guests. She got her nickname of "Lady Miles Davis" when the American press compared her improvisation style to this giant, one of her Jazz trumpet heroes. She met her pianist/vocalist, and husband Warren Byrd from Hartford, Connecticut in 2001 and was introduced by him to Jewish bassist David Chevan from New Haven, Connecticut.  Chevan and Byrd are the co-founders of the Afro-Semitic Experience. Saskia is honored to be part of this eclectic group and is proud to return the favor by inviting the bandmembers into her Jazzkia+.