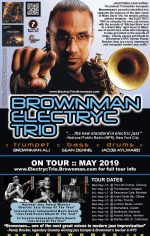 Saturday May 25, 2019, at 8:00 pm, $20 door, $15 advance, $10 students. Call 905-543-8512 or
Book online  

The amazing jazz trumpeter Brownman Ali returns to Artword Artbar with his Electryc Trio on their May tour.
The trio, Brownman Ali on electric trumpet, Sean Dennis on 6-string electric bass, and Jacob Aylward on drums, explore the later compositions of Miles Davis.