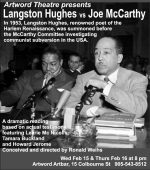 Wednesday & Thursday, February 15 & 16, 2017, at 8 pm. Artword Theatre presents a remount of "Langston Hughes vs. Joe McCarthy",  a dramatic reading for Black History Month. Featuring Learie McNicolls, Tamara Buckland, and Howard Jerome. Conceived and directed by Ronald Weihs. On March 24, 1953, Langston Hughes, renowned poet of the Harlem Renaissance, was summoned before the McCarthy Committee investigating communist subversion in the USA.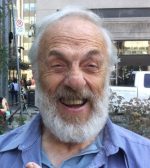 This dramatic reading interweaves some of his testimony with selected poems.
The second half of the evening features Howard Jerome, veteran actor, improviser, gamer voice, former beatnik-hippie-new-ager, who brings on one of his multiple personalities: Dr. Possibilities. The Doctor is making a house call at Artword Artbar. Come and get your out-of-body exam. Have your mind expanded, your heart opened, and your vision illumined. Make your appointment today.