James Gordon, iconic singer-songwriter, returns! Fri Oct 12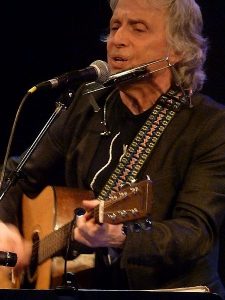 Friday October 12, 2018, at 8 pm, $15.
Book online  

Back at Artword Artbar for a solo concert.
Iconic Canadian songwriter
James Gordon
got his start in show business in the clubs, festivals and recording studios of Hamilton. He returns to his roots with songs about Canada's roots in a solo concert at the Artword Artbar. A multi-instrumentalist, we'll hear him on guitar, piano, banjo, harmonica and penny whistle at this intimate performance. His latest album
Sunny Jim
on Borealis Records made it to #2 on the national airplay charts in the roots/folk category, and he'll be previewing some material from his NEXT album at this concert . Find out more at
www.jamesgordon.ca
In a 40-year career, he's matched that with 40 albums as a solo artist or with his former band Tamarack. Songs about our Canadian identity and heritage, our culture and our environment, from the historical to the hysterical. Gordon is also known for his years as songwriter-in-residence on two CBC radio shows: "Basic Black" and "Ontario Morning". He has an extensive repertoire of downright silly songs from his days with Arthur Black to share with you.
Some know him as a playwright: his 6 full-length musicals include Hardscrabble Road, Nastee Business ( about our local water-bottling issues) and his legendary satire Stephen Harper: the Musical. ( It worked. You're welcome.) Others know him for his song Frobisher Bay which has been performed all over the world by choirs and around campfires!