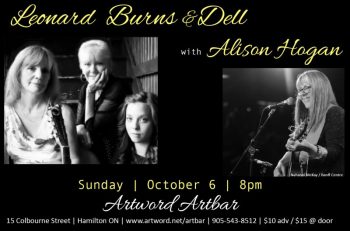 Sunday October 6, 2019, 8-10 pm. A special concert. $15 door, $10 adv. To reserve tickets (and seating) call 905-543-8512, or,  Book online

Alison Hogan is a veteran west coast singer/songwriter who started out in Vancouver clubs and coffeehouses in the 1970s. As part of the gypsy-jazz quartet The Kitsilano Kat Kickers (aka Mystery Pacific), she played the first years of the Vancouver Folk Festival before going on to record her original material. Alison's 2018 album Songs From the Third Act showcases the varied genres of Alison's writing. Described by one reviewer as "a stunning, sad, funny, sexy and lovely collection of songs". Her live performances showcase her love of classic country, blues and roots music, delivered with a wry sense of humour and some intricate acoustic guitar work.
Leonard, Burns & Dell (Sue Leonard, Brennagh Burns, and Cindy Dell) are a powerhouse harmony trio based out of Hamilton singing sultry blues and roots.