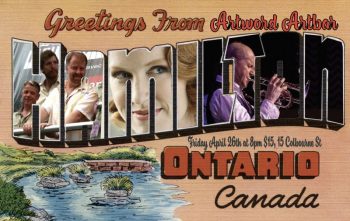 Friday April 26, 2019, at 8 pm, $15.
SOLD OUT. Call Artword Artbar 905-543-8512 for more info.
A return visit from the wonderful jazz vocalist, Canada's
Sweetheart of Swing
:
Alex Pangman & Her Alleycats
:
Alex Pangman
(leader/vox),
Peter Hill
(piano),
Chris Banks
(bass),
John Macleod
(cornet/flugelhorn),
Glenn Anderson
drums.
Reservations recommended. Her last show at Artword sold out!
www.alexpangman.com/
"It would be hard to find a box of musical bonbons more beguiling than this collection of post-Jazz Age treats… Her earnest vocals and sharp Alleycats band make each song sparkle." Toronto Star review by John Terauds.