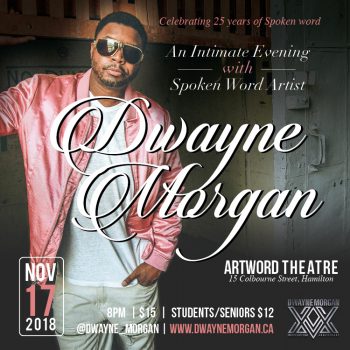 Saturday, November 17, 2018, at 8 pm,
$15 reg, $12 student/senior.
Call 905-543-8512 or
Book online  



Dwayne Morgan is a master storyteller. Known affectionately as the Godfather of Canadian Spoken Word, Morgan brings his 25th anniversary celebrations to Hamilton. Join us for An Intimate Evening With Dwayne Morgan. dwaynemorgan.ca/
Dwayne's biography:  Dwayne Morgan began his career as a spoken word artist in 1993. In 1994, while still in high school, he founded Up From The Roots entertainment, to promote the positive artistic contributions of African Canadian and urban influenced artists. A member of the Writers' Union of Canada, Morgan has received both the African Canadian Achievement Award, and the Harry Jerome Award for Excellence in the Arts. Morgan is the winner of 3 Canadian Urban Music Awards (2001, 2003, 2005). In 1998, Morgan introduced regular poetry slams to Toronto, and has watched them blossom across the GTA and beyond ever since. In 2005 he was recognized as Poet of Honour at the Canadian Festival of Spoken Word in Vancouver.  In 2008 Morgan's contribution to the Arts and Canadian society was recognized on the Legacy Black History Month poster.
Dwayne has published 6 books, most recently, Her Favourite Shoes, which followed The Sensual Musings of Dwayne Morgan (2010), The Making of A Man (2005), The Man Behind The Mic (2002), Long Overdue (1999), and chapbooks, The Revolution Starts Within (1996), and Straight From The Roots (1995). In 2009, Morgan's work was translated into French, culminating in the book, Le Making of d'un Homme. His albums include, Another Level (1997), The Evolution (2001), Soul Searching (2003), A Decade in the Making (2004), Mellow Mood: The End of the Beginning (2007), and Idle Hands (2011). In 2008, Morgan released a commemorative DVD entitled, Dwayne Morgan The First Fifteen.
Dwayne has performed for the former Governor General of Canada, The Honourable Michaelle Jean, and has shared the stage with many of Canada's top artists including Russell Peters, Deborah Cox, Kardinal Offishal, Jully Black, K-OS, and Nelly Furtado, while opening for international artists Alicia Keys, Linton Kwesi Johnson, Mutabaruka, Ursula Rucker, Colin Channer, and Saul Williams, and recording with Canadian artists including Grammy nominee, Drake.
To further explore his creativity, Dwayne collaborated with Driftwood Studios to film Three Knocks a ten minute film based on his domestic violence poem of the same name, which premiered in Toronto's Reel World Film Festival. In March 2008, Dwayne hosted his first photography exhibit, The Sum of Her Parts, exploring female body image. Dwayne's work ethic has taken him across Canada, the United States, Jamaica, Barbados, England, Scotland, Belgium, Budapest, Germany, France, Norway, and Holland. His emphasis on quality has driven his success, and has made him a well-respected component of Toronto's urban music community, as well as the North American and global spoken word scenes.