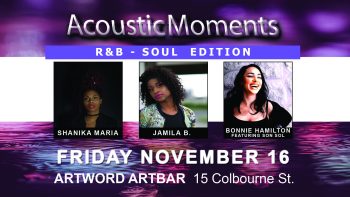 Friday November 16, 2018, at 8 pm.
Tickets $20 door. Call 905-543-8512. Advance tickets closed.
Acoustic Moments: the R&B and Soul Edition hosted by Mr. Jay Maca. presents three powerhouse R&B / Soul performers: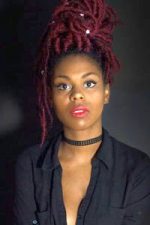 Shanika Maria: Shanika Maria is a singer-songwriter from Hamilton, currently living in Toronto. She explores themes of empowerment, societal expectation, identity and relationships through her music. She has been performing around Southern Ontario since 2014. In 2017, she released her debut EP Childish Games. Shanika is set to release her full length album Subtle Uncertainties in January 2019.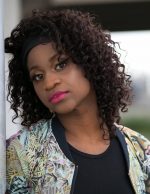 The album takes on a full sound with styles that range from pop electronic, beach rock, dark country and folk. http://www.shanikamaria.com/
Jamila B.: Jamila B. is a Canadian r&b/pop singer who was born to a Nigerian father and a British-Caribbean mother in Hamilton, Ontario. Always a lover of music, Jamila B. began singing and writing at the age of eleven. In a short time, she found herself performing locally and had the opportunity to open for headliners such as The Clipse, Choclair, Derrick Morgan, The Ink Spots, Tanya Stephens, Bobby Valentino, Black Sheep, and Redman. Jamila B. likes to focus on music that has a positive message and sings about matters of the heart.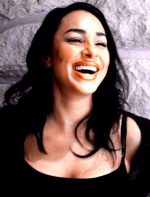 She has a small but mighty team of producers creating her sound for her debut album, Love & Confidence, an EP that chronicles the ups and downs in life and the sweetness of love. soundcloud.com/jamilaonline
Bonnie Hamilton.: Bonnie Hamilton is a singer, songwriter and keyboard player, the genres of soul, funk, jazz, ska, reggae. "I am on a journey to discovering true love, peace, identity, and my purpose. Time to make music."
https://www.facebook.com/bonniehamilton78/