Saturday October 26, 2019, at 8 pm, $15/10. For our 10th Anniversary concert series, our all-time favourite dynamic duo of Sophia Perlman and Adrean Farrugia are essential. They will perform "our usual eclectic mix of songs we love, and some of Sophia's originals" says Adrean.
They first played at Artword Artbar on July 21, 2011 (see photo left taken at that concert by John Douglas, a jazz fan). Here's what we posted then from their publicity: "Sophia Perlman has made a name for herself as one of Canada's most promising young vocalists, impressing audiences and seasoned musicians alike with her musical maturity and her impressive ability as an improviser.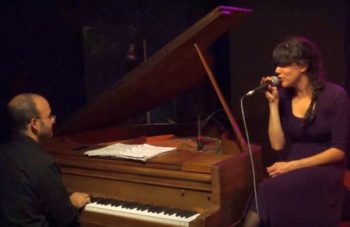 Multi-award winning pianist and composer Adrean Farrugia is one of Canada's most distinct voices on the piano. Fusing many diverse musical influences he has forged a personal sound which generates a uniquely individual creative statement."
And several concerts later, in fall 2014, Sophia and Adrean capped off our Steel City Jazz Festival week (photo right). And on… we are big fans.