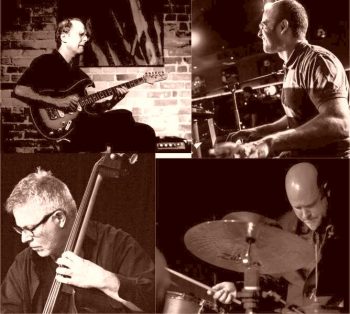 Friday July 12, 2019, at 8 pm, $20 regular / $10 students. Call 905-543-8512 or Book online  

Modern instrumental improvised music with The Lorne Lofsky / Adrean Farrugia Quartet: featuring Lorne Lofsky guitar; Adrean Farrugia piano; Kieran Overs acoustic bass; Chris Wallace drums.
Lorne Lofsky is an internationally recognized jazz guitarist. Born and raised in Toronto, he has been playing professionally for the last 42 years. He has played/toured or recorded with a who's who of the jazz world, including Oscar Peterson, Ed Bickert, Rob McConnell, Chet Baker, Joey DeFrancesco, Pepper Adams, Ray Brown, Neils Henning Orsted  Pederson, Rosemary Clooney, Kirk MacDonald, Dave Holland, and many other respected members of the international jazz community.
Award winning pianist and composer Adrean Farrugia is one of Canada's most distinct voices on the piano. Since the late 1990s Adrean has been in high demand as a freelance performer and educator. Keeping a busy touring schedule, mainly as a sideman, Adrean has toured extensively across Canada and the United States as well as in venues across Europe, Australia, the UK, Israel and in Japan. Adrean has performed/recorded with some of music's greatest and most diverse artists including: Sheila Jordan, Ernie Watts, Brad Goode, Pat Labarbera, Adam Nussbaum, Curtis Fuller, Cyrille Aimee,  Lorne Lofsky, Molly Johnson, Jane Bunnett, Joel Frahm, Dafnis Prieto, Kinan Azmeh, Kenny Wheeler, Don Thompson.