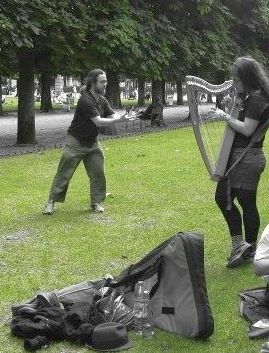 Thursday July 11, 2019, 7:00 pm.  *ALL PROCEEDS TO SACHA; Sexual Assault Centre for Hamilton and Area. Pay What You Can!*
The Vagabond Duet brings you cello, harp and two voices. Things are hard and there is beauty in music and that matters.
Music will include original arrangements of 60s & 70s folk, contemporary alternative, and oh, some early 18th century and/or late 19th century genius most likely. And original songs, music for rage, hope and love. Geoff Ball: cello, guitar, voice; Rachel Nolan: pedal harp, lever harp, voice.
Special guests to be announced!