Berman Billings, folk blues w. Matt Berman & Jonathan Billings, Fri Apr 20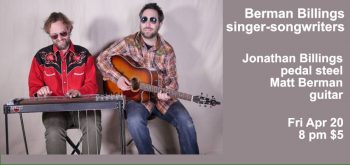 Friday April 20, 2018, at 8 pm, $5. Berman Billings is a new project featuring Matt Berman (Must Stash Hat) and Jonathan Billings (Jonathan Billings Band). It's a mix of acoustic guitars and pedal steel with vocal harmonies. Matt Berman songwriter, guitar, vocals and Jonathan Billings songwriter, pedal steel, vocals
Often referred to as "Psychedelic Folk Blues", Berman Billings can be heard playing in just about any room in southern Ontario from large clubs to barber shops! Their debut album Killin' Time will be released on vinyl and digital on June 23, 2018.