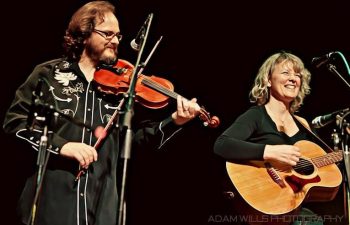 Saturday September 28, 2019, at 8 pm, $15. To reserve tickets (and seating),  Book online

or call 905-543-8512.
Darrin and Alison Schott are a picking, singing and song-writing duo from Norfolk County. Expect beautiful vocal harmonies, and virtuoso playing on fiddle, mandolin, guitar, banjo and dobro. Their original songs are rooted in the life and history of Norfolk County. Darrin has played often at Artword with the New Cumberland bluegrass band, and Alison has appeared with the Sandplains Pickers.
Artword is very pleased to bring Alison and Darrin Schott to our stage for our final fall season!! Please come. They are wonderful!