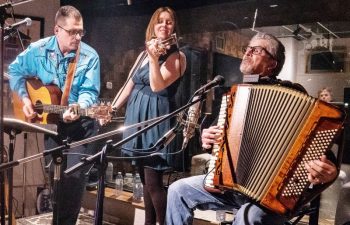 Friday June 21, 2019, at 8 pm, $15. Call 905-543-8512 or Book online  

Back at Artword, The Acoustics: Bonnie Bell on violin, Vince Spoto on guitar and vocals, and Alfonso Spoto on accordion, playing their own lively and original folk/rock, world/roots compositions with distinctive musical arrangements.
For the past 16 years, they have been cultivating their unique music for local fans and venues. During this period they have released three studio CD's, their debut CD (Dec. 2003) A Thousand Yesterdays, their second CD, Forever and a Day (Dec. 2007), and their third CD, Erie Long (Jan. 2013).