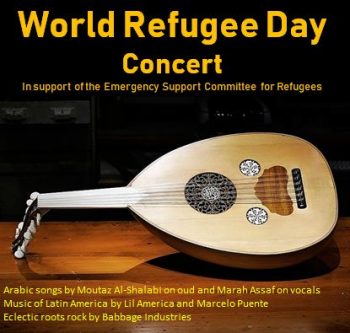 Thursday June 20, 2019, at 8:00 pm, $20 or pwyc. World Refugee Day Concert hosted by the Emergency Support Committee for Refugees, in support of family reunification for refugees.
Arabic songs by Moutaz Al-Shalabi on oud and Marah Assaf on vocals.
Music of Latin America by Lil America and Marcelo Puente.
Eclectic roots rock by Babbage Industries.
Donations over $20 are eligible for an income tax receipt!
From the United Nations website: "In a world where violence forces thousands of families to flee for their lives each day, the time is now to show that the global public stands with refugees. On World Refugee Day, held every year on June 20th, we commemorate the strength, courage and perseverance of millions of refugees. This year, World Refugee Day also marks a key moment for the public to show support for families forced to flee."