Jazz: the Aaron Zukewich Trio, Thurs May 17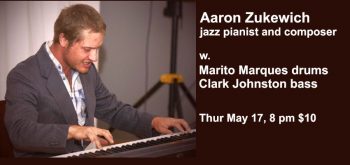 Thursday May 17, 2018, at 8 pm, $10. Jazz with the Aaron Zukewich Trio, featuring Aaron Zukewich on piano and new compositions, Marito Marques on drums and Clark Johnston on bass, with new compositions. The trio delivers an adventurous blend of intricate rhythms, modern harmonies, and
singable melodies that embrace the diverse landscapes of contemporary jazz, world and popular music. Pianist, saxophonist and composer Aaron David Zukewich studied music at York university with some of Canada's finest jazz musicians, including Mike Murley, Kelly Jefferson, Kevin Turcotte, and Lorne Lofsky. He has also studied privately with Hamilton pianist Adrian Farrugia.