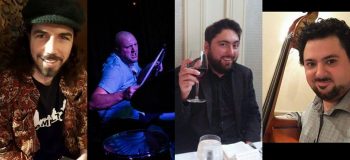 Friday March 8, 2019, at 8 pm, $15. A double bill of jazz and funk.
Beelays: Jazz Quartet, with Jordan Snider on drums, Tom Altobelli on bass, Chris Bruder on piano and Scott McIntosh on guitar, is a stripped down instrumental edition of Hamilton's hard-hitting funk rock band The Beelays. The quartet formed ten years ago while studying music at Mohawk College. The quartet features compositions written by all members of the group that fuse elements of improvisation with the energy of live music to make a unique performance every time.

Nosey Neighbour, with Juno-nominated guitarist & bandleader Paul MacDougall, George Ouellette on bass and Costa Chatzis on drums, is a group based in Brantford, born from a shared love of jazz, fusion and funk. Nosey Neighbour's style fuses catchy heads and adept improvisation much like John Scofield, Medeski Martin & Wood, and Miles Davis.