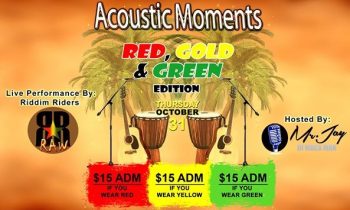 Thursday October 31, at 8 pm. Admission $15 if you wear red, gold and/or green. General admission will be $25.
Mr. Jay hosts another fabulous Acoustic Moments show,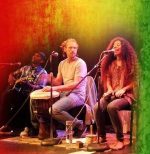 featuring world-class reggae music by The Riddim Riders Unplugged.
Band members Franklin Joseph (guitar), Mike Rajczak (lead vocals, drums), Lauren Mikayla (background vocals) and Carl De Souza (bass). The Riders break away from their usual reggae-rockers vibe with this configuration, presenting an acoustic-soul vibe featuring acoustic and classical guitars, djembe, conga and hand percussion and a big focus on rich vocal harmonies. This event will be hosted by Mr. Jay from the Artword Theatre Ensemble (James Street, Scroogissimo) and host of the I.R.S. radio show (International Reggae & Soca) on CFMU 93.3 FM.
Artword Artbar has been the venue for this event for the past four years. Come and take in some sweet reggae vibes one more time before they close their doors for good in December 2019.