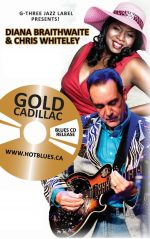 Friday November 1, 2019, at 8 pm. Tickets $20.
To reserve tickets (and seating), call 905-543-8512, or  Book online

Two of our favourite performers, vocalist Diana Braithwaite and Chris Whiteley (guitar, trumpet) are returning to Artword Artbar with a new blues CD with G-ThreeJazz Label. The CD is called Gold Cadillac and the theme of the album: unique & funny blues tunes.