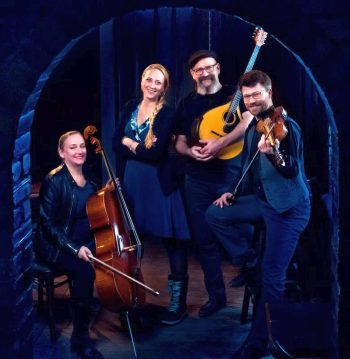 Saturday November 2, 2019, TWO SHOWS: 3 pm & 8 pm. $20 reg, $10 students. To reserve tickets (and seating),  Book online

or call 905-543-8512, or email artword@artword.net
Skye Consort & Emma Björling perform trans-Atlantic arrangements of traditional Nordic/Celtic/Québecois music as well as original compositions. Voices, fiddle, nyckelharpa, cello, bouzouki, banjo, and percussion. whirling polskas, groovy reels, passionate love songs, breathtaking hymns, and more. www.skyeconsort.org/
Amanda Keesmaat (cello & vocals) is a member of La Nef, a vibrant presence in the Montréal early music community, and has recorded and performed with many prominent singers and renowned ensembles.
Emma Björling (lead voice, shruti box, perc.) is an award-winning Swedish singer, composer, arranger, active in the renowned Scandinavian bands Kongero and Lyy. Both bands have toured the world, and are busy in the European Folk/Trad scene. Emma teaches and conducts workshops all over the world.
Seán Dagher (cittern/bouzouki, banjo & vocals) is the artistic director of La Nef and an active performer, arranger, and composer of music from various folk and classical music traditions. He participated in the Adisq-winning CD, La Traverse Miraculeuse with La Nef and Les Charbonniers de l'enfer.
Alex Kehler (fiddle, nyckelharpa & vocals) is a member of La Nef, Soulwood, a Kehler Williams duo, Les Siffleurs de nuits, and also busy playing with Suzie LeBlanc, Jeremiah McLane, Timmothy Cummings.