The Sad Boys Literary Society, readings & music, Thurs June 14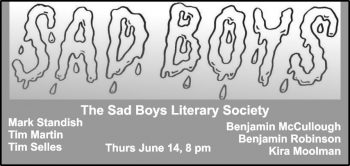 Thursday June 14, 2018 at 8 pm. Admission by donation. The Sad Boys Literary Society will be celebrating their 1st birthday with a night of readings and musical performances at Artbar Artbar. This will also be your only chance to pick up theirr super-special limited-edition Sad Boys chapbook featuring our most earth-shattering poems from this past year. Performers may include:
Benjamin McCullough, Benjamin Robinson, Kira Moolman, Mark Standish, Tim Martin, Tim Selles.