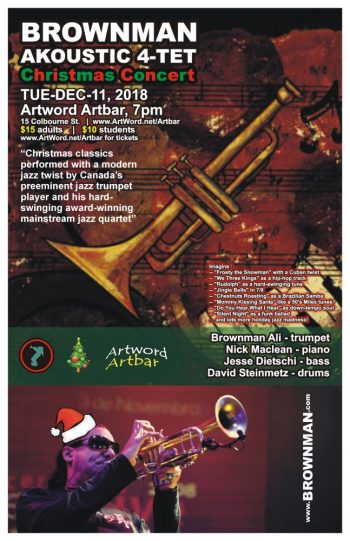 Tuesday, December 11, 2018, at 7:30 pm, $15/$10 students. Special show just added! Brownman Ali's Jazz Xmas show is a unique reading of classic holiday tunes by the BROWNMAN AKOUSTIC QUARTET with Brownman Ali on trumpet, Nick Maclean on piano, Jesse Dietschi on bass and David Steinmetz on drums. All tunes have been specially arranged by Brownman. Imagine:
— "Frosty the Snowman" with a Cuban twist
— "We Three Kings" as a hip-hop track
— "Rudolph" as a hard-swinging tune
— "Jingle Bells in 7/8"
— "Chestnuts Roasting On An Open Fire" as a Brazilian Samba
— "Mommy Kissing Santa Claus" like a 50's Miles tunes
— "Do You Hear What I Hear" as down-tempo soul
— "Silent Night" as a ballad.