Saturday March 30, 2019, at 8 pm, $15.
Call 905-543-8512, or

Book online
The seven-piece Mingus Appreciation Society brings together unique musicians and pays tribute to the quirky music of Charles Mingus.
Featuring members of the Blunt Object collective from Toronto, Hamilton, and Kitchener/ Waterloo: Francis Smith saxophone; Robin Habermehl saxophone
Jesse Malone trumpet; Robin Jessome trombone; Andriy Tykhonov piano; Tom AltobellI bass; Jordan Snider drums.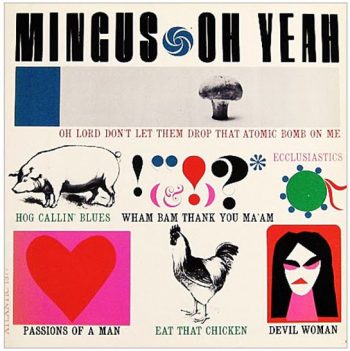 Weaving complex arrangements with group improvisation, the personality and sense of humour in Mingus' timeless compositions reflect a man who was an eclectic and uncompromising musical force, and hugely influential on jazz musicians that followed him.
Image right is one of Artword's favourite Mingus albums: Charles Mingus, Oh Yeah, 1961 Atlantic. album art by Loring Eutemey
From Wikipedia: Charles Mingus Jr. (April 22, 1922 – January 5, 1979) was an American jazz double bassist, pianist, composer and bandleader. A major proponent of collective improvisation, he is considered to be one of the greatest jazz musicians and composers in history, with a career spanning three decades and collaborations with other jazz legends such as Louis Armstrong, Duke Ellington, Charlie Parker, Dizzy Gillespie, Dannie Richmond, and Herbie Hancock.