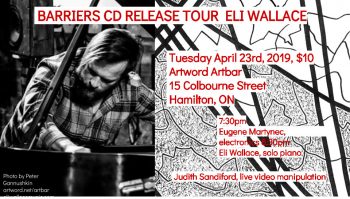 Tuesday April 23rd, 2019 7:30 pm, $10. Special Concert, a double bill of two outstanding solo improvisors: Eli Wallace, from New York on his Barriers solo piano release tour, and Eugene Martynec, from Toronto, performing live electronics. Judith Sandiford will perform live video-mix projections.
Known for creating solo piano improvisations informed by his melange of diverse influences that are directed by his strong compositional sensibilities, Eli Wallace will play an uninterrupted single improvised piece; as similarly displayed on his recent release, Barriers.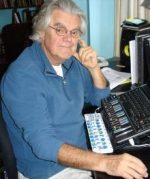 Eugene Martynec is a staple of the Toronto improvised music community and will perform a solo electronics set using live interactive music software. Eugene has a long history of collaboration with Artword Theatre (Ronald Weihs and Judith Sandiford) in their Toronto days. He has created electronic sound scores for several of their theatre projects. For four years he hosted Eugene's Sunday Series, every Sunday evening at Artword Theatre on Portland Street, where the improvising community had a chance to explore and experiment.
It was Eugene who got Judith Sandiford started with her VJ software explorations. In the past they have collaborated on various live-video performances. This concert will be a reunion "duet".