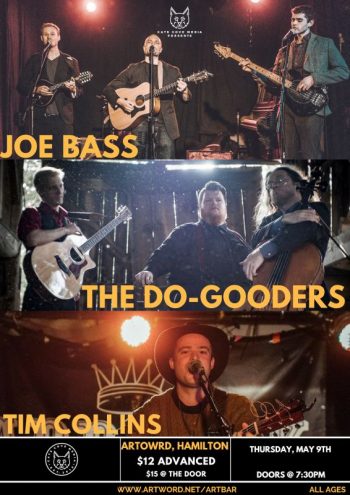 Thursday May 9, 2019, at 8 pm, door $15 cash only, $12 advanced online. Call 905-543-8512, or

Book online
Cats Cove Media presents an artist showcase featuring Joe Bass, The Do-Gooders and Tim Collins.
Tim Collins:  singer-songwriter in the folk and folk-rock genre.
The Do-Gooders:  a hard-acoustic trio made up of Hamilton cellist Geoff Ball, and Burlington guitarists Stu Gritter and Dan Murray. Possessing a penchant for storytelling, they tend to snag bits and pieces from different genres in order to find what best suits their whimsically grim (Grimsical?) tales.
Joe Bass is a guitar, mandolin and bass banjo trio: Sandy James, Eric Marcotte, and Garrett Stratford. Modern folk tales, rootsy genre-bending anthems, and just a dash of small-town nostalgia, Joe Bass offers an adventurous spin on alternative-folk music.