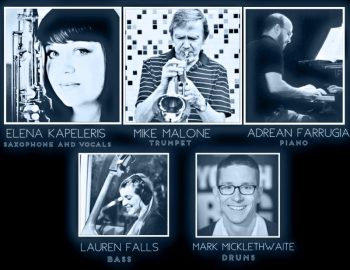 Saturday October 12, 2019, at 8 pm, $15 regular, $10 students.
To reserve tickets (and seating), call 905-543-8512, or  Book online

The Elena Kapeleris Quintet, a Toronto-based quintet, led by Elena Kapeleris, is joining forces with two of Hamilton's top jazz musicians: Mike Malone and Adrean Farrugia! The line-up for October 12: Elena Kapeleris on saxophone and vocals, Mike Malone on trumpet, Adrean Farrugia on piano, Lauren Falls on bass and Mark Micklethwaite on drums.
Elena Kapeleris is a Toronto based saxophonist and vocalist, who leads her own jazz quintet. She is also a member of Rita Chiarelli and Sweet Loretta, Kellylee Evans band, Surefire Sweat led by Larry Graves, and Jay Danley's Ethiojazz Project, and others. Her eclectic taste has led her from jazz to R&B to world music and more. She has shared the stage with  Pat LaBarbera, Hilario Duran, BrandiDisterheft, Jully Black, and Tanya Tagaq.
Mike Malone, trumpet player and composer/arranger, has been part of the Canadian Jazz music scene since the early 1970s. He has recorded with Nimmons 'N' 9 plus 6. The Ted Moses Quintet, Dave McMurdo Jazz Orchestra, Ranee Lee, Ted's Warren Commission, The Alex Dean Quintet and John MacLeod and the Rex Hotel Orchestra. He was a member of the music faculty at Mohawk College in Hamilton for 25 years and currently directs the Jazz Band at McMaster.
Adrean Farrugia fell in love with the piano at age 12. He began extensive classical studies and at the age of 18 was bitten by the Jazz bug and has never looked back. Since then he has dedicated his life to bringing music into the lives of anyone willing to listen. He has performed across Canada, the United States, Japan, the UK, France, Germany, Poland, Israel, and Australia. He has appeared on more than 30 recordings and has shared the stage with internationally renowned artists such as Sheila Jordan, Ernie Watts, Tom Scott, Kenny Wheeler, Joel Frahm, Jane Bunnett, Brad Goode, Curtis Fuller and Matt Dusk, as well as many of Canada's greatest musical luminaries.