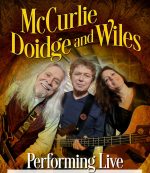 Friday June 7, 2019, at 8 pm, at 8 pm, $15. Call 905-543-8512 or
Book online  

McCurlie, Doidge and Wiles will perform local story songs and new originals from Caroline Wiles's new album Living In The Now. Mike McCurlie, Bob Doidge and Caroline Wiles are an Ancaster-based trio who perform original folk-rock music and great story songs, many based on Ancaster's history. These seasoned musicians are award winning songwriters/artists who sing fabulous three part harmonies. Mike McCurlie and Bob Doidge have been making music together since their early teens. Then along came Caroline Wiles, a songwriter from Montreal. They all start playing together, harmonizing, creating a groove with guitar, mandolin and bass.
www.mccurliedoidgeandwiles.com   and   www.carolinewiles.com.