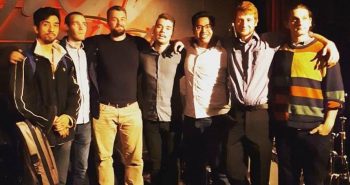 Saturday March 23, 2019, at 8 pm, $15/$10.
Call 905-543-8512, or

Book online
Devin Patten is a Toronto-based jazz bassist and composer. On this occasion at Artword Artbar, he will be leading a six-piece ensemble highlighting his original music. The ensemble: Brad Eaton trumpet, Kyle Tarder-Stoll tenor saxophone; Nebyu Yohannes trombone; Claire Lee piano; Devin Patten upright bass; Eric West drums. Devin's compositions draw influence from the music of Wayne Shorter, Joe Henderson, Bill Evans and Claude Debussy.
Devin was a regular performer at Artword during his student days at Mohawk College. He always had an ambitious musical project on the go. We are delighted to have him back!