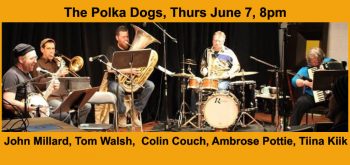 Thursday June 7, 2018 at 8 pm, $15. After an over 25-year hiatus, The Polka Dogs, Toronto's beloved theatre based band returns with an Ontario tour and new CD June 2018. The revived, renascent, and reformed Toronto theatre-based band, THE POLKA DOGS, have returned after a 25-year hiatus.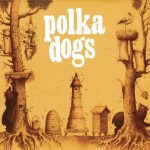 Starting as a theatre pit band in 1989, the band wowed the world in the 90s with an explosive, raucous, joyous sound of trombone, tuba, banjo, drums and that sultry, fantastic voice of theatre staple John Millard. The band returns with the same original sound, and features all five of its founding members including, Tom Walsh on trombone, Tiina Kiik on accordion, Colin Couch on tuba, John Millard on banjo and vocals, and Ambrose Pottie on drums.
Tour dates: June 2, 8pm at Burdock, Toronto; June 7, 8pm at Artword Artbar in Hamilton; June 8, 8pm at Silence in Guelph.
"The Polka Dogs are a boiling pan-cultural stew that bastes you, roasts you and serves you up well done. Please, Polka Dogs, can I have some more?" – Tom Allen, CBC