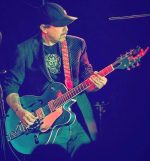 Thursday September 26, 2109, at 8 pm, $10. The Planet of the Loops returns! Noted guitarist Andrew Aldridge and his legendary Planet of the Loops live at Artword Artbar. Special guests for Thur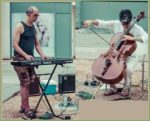 s Sept 26 are cellist Cheryl O and Steven Sauvé on keyboard / laptop, both members of quasiMODAL, a floating electro-accoustic improv trio.
Join us for a night of live improvised recycling of sounds! Anything can happen, and frequently does! Andrew explains: "In 1998 I started a Collective event called Planet of the Loops. It's an improvisational/ experimental night consisting of 3-4 players. It ran in Toronto until 2005. Then I moved to Hamilton and occasionally had some Planet events in various locations. I was touring a lot too and couldn't do a regular monthly event." In 2017 Andrew brought his Planet of the Loops to Artword Artbar. VJ improviser Judith Sandiford joins in with real-time visual "looping".