July 24th, 2017
Comments Off

on Mû Mbana, musician from Guinea-Bissau, Thurs Aug 3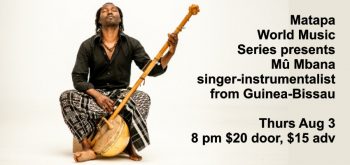 Thursday, August 3, 2017, at 8 pm, $15 advance/ $20 door. Call Artword Artbar 905-543-8512, or

Book online
Matapa World Music Series presents Mû Mbana, a multifaceted artist, singer, poet and composer, playing the simbi and other instruments.
BREAKING NEWS from Matapa!! Waleed Abdulhamid, multi-instrumentalist from Sudan, is joining Mû Mbana at this concert, along with guest appearances by Celtic harpist Ruth Sutherland, singer-songwriter Dan Medakovic.
Mû Mbana is appearing at Mariposa Festival and Mill Race Festival this summer in Ontario. Born on the island of Bolama, Guinea-Bissau, Mû Mbana grew up influenced by the music of his immediate surroundings, especially the voices and music of the Brame (Mancanha) and Bidjugu peoples. He has published ten albums and has played on many stages in Europe, Africa and America. Currently, he travels between Bissáu and Barcelona, alternating his solo work with projects collaborating with musicians such as Selva de Mar, La Locomotora Negra, the great Manu Dibango, Simão Felix, Rosa Zaragoza, Lula Pena, Jurandir Santana and Fabiana Cozza.
.