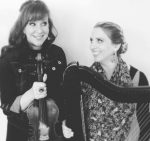 Tuesday May 30, 2017 at 7:30 pm, $15 door/ $10 adv.
To reserve in advance call 905-543-8512, or

Book online
A special concert by Celtic duo Mairi Rankin and Ailie Robertson, on tour in Canada. They are part of the Celtic band Outside Track, who played at Artword Artbar last year. Now they are doing a little tour as a duo (after a full tour with the whole band).
Mairi Rankin, from Cape Breton, one of the legendary Rankin Family, plays fiddle, sings and also step-dances up a storm.
Ailie Robertson, from Edinburgh, is one of Scotland's leading young traditional musicians and clarsach (celtic harp) virtuoso.