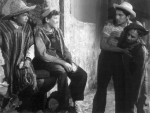 Wednesday November 27 at 8 pm. Free admission. RAPS presents "An evening of Mexican cinema from the golden era",  a screening of Los olvidados (The forgotten ones), México, 1950, directed by Luis Buñuel's (known in the US as "The Young and the Damned").
A group of juvenile delinquents live a violent and crime-filled life in the festering slums of Mexico City, and the morals of young Pedro are gradually corrupted and destroyed by the others. The film won the Golden Ariel for Luis Buñuel at the Ariel Awards, and Best Director: Luis Buñuel at the Cannes Film Festival.
Guest speaker Andrès Miramontes, Mexican social activist and philosopher attending McMaster University, will introduce the film and facilitate discussion after the screening.