August 7th, 2014
Comments Off

on Theatre: "See Bob Run", starring Laura Ellis, Sept 30 to Oct 5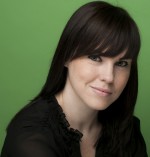 THEATRE: Six performances (Sept 30 to Oct 5, 2014) of See Bob Run:
Preview Tues Sept 30, at 7:00 pm,  $5
Wed Oct 1 to Sat Oct 4 at 7:00 pm, $10, Sun Oct 5 matinee at 4:00 pm $10.
Performer Laura Ellis and director Tyler Brent (Hamilton's As You Were Productions) present Canadian playwright Daniel MacIvor's breakthrough play See Bob Run, written in 1986 for a solo actress.
Bob is on the road. Bob is on the run. But from what, or whom, is she running? Follow Bob as she hops from car to car telling her story to unsuspecting drivers as she tries to put her life in the rear-view mirror. Will she make it to her destination, and what will she find when she gets there? …"the ironic name stands in sharp contrast to this perceptive and thoroughly engrossing one-woman show." Toronto Star
Running time is 60 minutes. On Thurs, Fri and Sat, concerts at 9 pm (with separate admission) follow the play.