Beg To Differ Trio, Thurs Oct 30
Thursday October 30, 2014 at 8 pm, pwyc.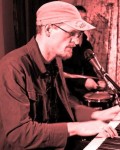 An Artword favourite, the lively high-energy Beg To Differ Trio playing blues / jazz / funk — Tim Ninehouse on keyboards, vocals; Doug Sikma on guitar; Steve Foster on drums. Unique renditions of blues, jazz and funk songs, drawing from a large musical repertoire from early blues roots to jazzified contemporary songs.